CONFIDENT WOMEN COMMUNITY + AC/MC STUDENT
Let's meet in person!
We'll talk, learn, explore, and have fun.
Get all the details for upcoming opportunities to meet in real life down below.
Dreaming of meeting in real life?
Me too.
Since launching Speak Confident English in 2014, I've had the opportunity to meet my students all over the world — in Kyiv, Tbilisi, Paris, Riga, San Diego, Miami, New York City, Baltimore, and more.
But THIS is the FIRST time the SCE Team and I are organizing a group meet-up. 💜
Meeting each other in real life… talking, laughing, learning, and exploring together would be a dream come true.
And now it's happening.
CWC Meet-Up June 30 and July 1
Washington D.C.
We are planning our FIRST CWC Live Meet-Up in Washington D.C.!!!
This will be a 2-day event on June 30 and July 1.
The ENTIRE Speak Confident English Team will attend this meet-up. 🙌 🎉
Welcome Session
We'll start our first morning together with a relaxed meet & greet activity.
You'll be able to meet/chat with all the Speak Confident English team members and get to know others attending our meet-up.
Morning Workshops
Before you come to Washington D.C., we will send you a unique Learning Guide created for our in-person event.
It will include location-specific vocabulary, grammar for talking about new experiences, and more.
These morning workshops will provide in-person opportunities to learn from our team and feel more comfortable using specific vocabulary and grammar structures for our afternoon scavenger hunt and our museum walks on Day 2.
Lunch
After our morning workshops, we'll have lunch together.
We will provide lunch.
This will be a time to also relax and chat with each other.
Washington D.C. Scavenger Hunt
After lunch, let's explore Washington D.C.!
With our Speak Confident English team members, we'll create small groups.
Each group will have a list of items to collect around an area of Washington D.C.
The team to collect the most items will win a prize.
Afternoon Discussions
After our scavenger hunt, we'll announce the winners.
Then we'll get into smaller discussion groups with questions to help you reflect on what saw/experienced while walking around Washington D.C.
This is also an ideal opportunity to use our Meet-Up Learning  Guide with location-specific English vocabulary and grammar structures for talking about new experiences, sharing impressions, and describing places.
Happy Hour
We'll end the day with a relaxing happy hour to celebrate our first day together.
The happy hour will finish around 6:00 PM.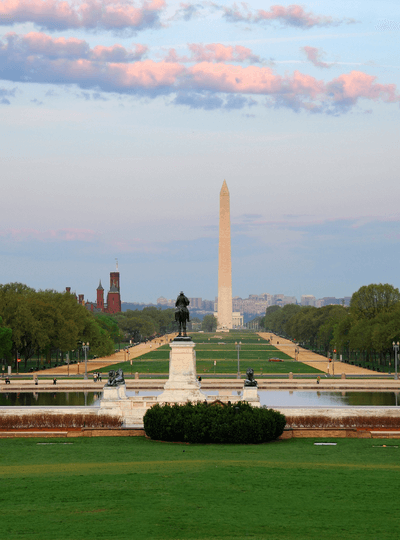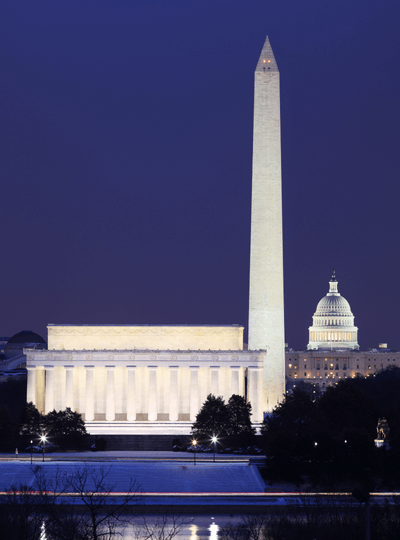 Washington D.C. Walking Tours
Washington D.C. is famous for its Smithsonian Museums, which are free to the public.
Join Speak Confident English Team members to visit a museum of your choice.
We will have 3 options available. And each will include a learning session with key vocabulary.
Members will have a 90-minute visit to the museum.
Lunch
After your morning adventure at a museum, you'll return to our primary meeting location for lunch.
We will provide lunch.
This will be a great time to chat with others members and share your experiences.
Afternoon Discussion Workshops
In the afternoon, you'll reconnect with your walking tour group and Speak Confident English team members to discuss what you saw and experienced at your museum of choice.
This is an ideal time to learn and use new vocabulary as well as grammar structures + conversation questions about new experiences.
Human Library Experience
To deepen your connection with fellow members, we'll have in-person Human Library Workshops.
The aim of The Human Library is to create "a safe space for dialogue where topics are discussed openly between our human books and their readers."
During the Human Library workshop, you'll have the opportunity to explore in-depth conversation topics with a partner.
Closing Discussions and Reflections
We'll finish Day 2 with time to reflect and discuss with refreshments.
Day 2 will end between 5:00 – 5:30 PM.
Important Details
Plan Your Trip
Why Washington D.C.
The Speak Confident English Team is a virtual team. We live all over the world and have never met in real life!
Our team will have our first in-person retreat in Washington D.C. This will be the first time we meet in person. We can't wait.
And we want to celebrate this unique opportunity with you by hosting a CWC Member-Only in-person event as well.
👉 This is a unique opportunity for CWC Members and the ENTIRE Speak Confident English Team to be together. 💜
Plus, Washington D.C. is a marvelous city to visit.
It is home to the Smithsonian Institution – the world's largest museum, education, and research complex, with 19 museums and the National Zoological Park — all of which have FREE admission.
Moreover, the city is rich in culture, food, monuments, history, music, and more. It's a very walkable city.
Learning Materials
Before our in-person event, you will receive a special CWC Roadmap created specifically for your visit to Washington D.C.
Like our usual CWC Roadmaps, this will include essential vocabulary for your visit, grammar structures used to talk about new experiences, and common conversational questions, including small talk questions.
The Roadmap will also include fun extras such as Washington D.C.-focused podcasts and more.
We will use this special CWC Roadmap in our in-person workshops.
Additional learning materials will be provided during the event.
Lodging/Hotels
*More Details Coming Soon*
For this meet-up, we will host all of our activities at an event space in the Logan Circle neighborhood in Wahington D.C. It's a very walkable and vibrant area.
If you'd like to be within walking distance of our meet-up, a hotel in the Logan Circle area is recommended.
If you'd like more assistance, we will provide a list of hotel options near our meeting location in Washington D.C. very soon.
MEALS
During the 2-day event, we will provide lunch and afternoon refreshments.
We will also host a Happy Hour event on July 30 from 4:00 – 6:00 PM.
Travel
If you will travel to attend, there are 3 airports in the Washington D.C. area.
Two airports include public transportation into Washington D.C. via Metro.
Local Map + Recommendations
COMING SOON
We will provide a local map for you with the location of our in-person meeting.
This will also include recommendations for
Coffee shops
Restaurants
Hotels
Shopping
Places of Interest
Registration & Cost
👉 Note: See information on HOW to register below.
To join us for this CWC Meet-Up, we will accept registrations until April 30.
To help us plan for how many members will attend and make arrangements for
Our meeting location
Meals and refreshments
Reservations for museums
We ask for a $40 USD deposit.
This deposit will do 2 things:
It will secure your spot to attend our CWC Meet-Up. We can host up to 20 CWC Members.
It will contribute toward the cost of 2 lunches, afternoon refreshments, and a happy hour event.
REFUND & CANCELLATION
If you secure your spot and then need to cancel, we will provide a refund up to 30 days after you pay the deposit.
We will reserve a meeting location based on the number of members who reserve a spot to join us.
If you cancel more than 30 days after your registration, we will not be able to provide a refund.
How to Register
On this web page, you'll see a button that says "Reserve Your Spot Now."
When you click that button, you'll see this: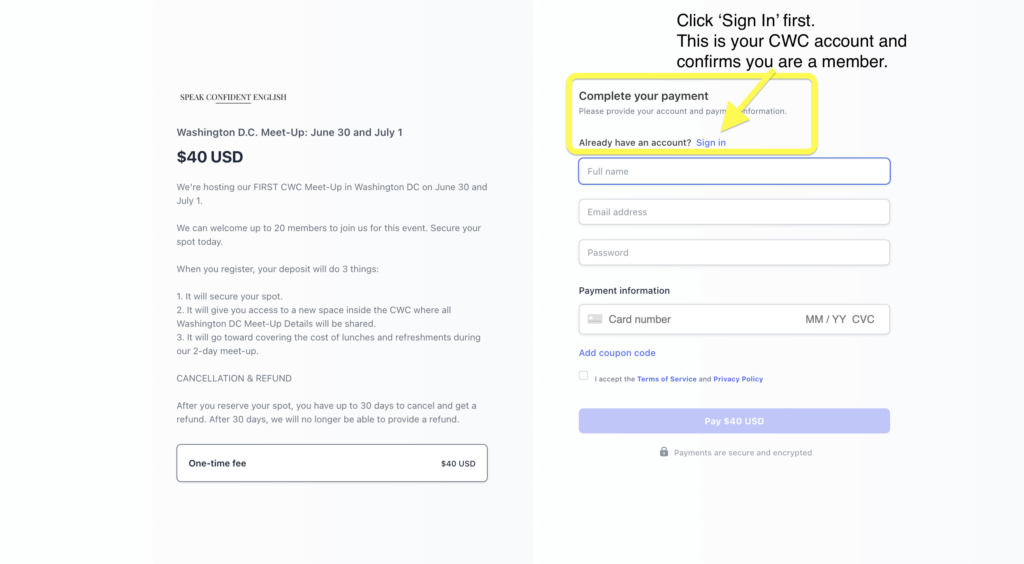 Circle is the platform we use for the Confident Women Community.
You will be asked to sign in (this confirms you are a member).
Then you can proceed with the payment.
What's Included
For our Washington D.C. Meet-Up, the following is included:
Learning materials
Workshops + planned activities
Lunch + Refreshments
Events will be scheduled
10:00 AM – 6:00 PM on June 30
9:30 AM to 5:00 PM on July 1
Registration Deadline: April 15, 2023
We can accept up to 20 members for this Washington D.C. meet-up.
If you would like to join us, we ask you to reserve your spot with a deposit of $40 USD. This helps us to effectively plan for how many members will join us, reserve meeting venues, order meals/refreshments, and more.
This deposit will reserve your spot and contribute toward the costs of lunch + refreshments for both days.
CANCELLATION & REFUND DETAILS: After you reserve your spot, you have up to 30 days to cancel and get a refund. After 30 days, we will no longer be able to provide a refund.
Can't Attend?
We know it may not be possible for everyone to attend, even for those who want to.
This is the FIRST CWC Meet-Up of what we hope to be many. We want to continue planning opportunities for us to meet in real life. 
The outcome of our first meet-up in Washington D.C. will inform future opportunities and plans.
More Questions?
If you have a question, please email us!
We want to answer every question.
You can send us an email at: [email protected]
CONNECT WITH US
Are you coming to Washington D.C.?
Connect with us and other attendees here in the comments.