About Speak Confident English
"I believe you can be successful in your life and in your career with English. You can say what you want and speak with confidence. You can be fluent in English… and it doesn't need to be difficult." ~ Annemarie
Hello! And welcome! 
I'd love to know, does this sound like you?
Reading in English is easy for you:
You sometimes use English at work. When you read emails or read information in English, you can understand it. You even enjoy reading some books, blogs, or magazine articles in English and you can understand everything.
When you listen to people speak English, you can understand.
Maybe you can't understand everything, but you understand a lot. Native speakers are difficult because they speak so fast and use so many idioms, but you can understand most things. You can watch movies in English with the English subtitles sometimes. And you listen to some English podcasts.
You know a lot of English grammar rules.
You've studied English for years. You know the grammar well. You can tell others about the rules of English grammar. And you have a good foundation in vocabulary as well. 
But when you speak, everything is lost.
The problem is when you speak English, you can't remember anything. You forget words and grammar. Vocabulary is stuck in your mind. You feel silly. You feel nervous. 
You're afraid no one will understand you. You're afraid you'll make too many mistakes.
So you stay quiet. You avoid speaking English.
At business meetings you stay quiet, you don't say anything, you don't give your opinion or share your expertise.

In conversations, you only listen. You don't share your stories or experiences because you're too nervous to speak.

You dream of a new job but you don't try to get the promotion or the new job because you need English for it. But you don't feel confident in your English skills.
"I want to share with you a great news! It will be something like "my story of success" or "the person who has changed my life". To begin with, I need to say that I have been learning English since my childhood in any possible ways: with teachers, on courses, by myself. But I didn't feel myself confident in speaking, because my English wasn't fluent. And one day I've found an information about Confident English and I've joined. All Fluency Challenges, Fluency School course made me feel more confident in my English! And I've made a decision to change my job. So I had my first job interview in English and I've got a new job! None of that would have been possible without Annemarie! So the most sincere and heart-felt "Thank you" to Annemarie who provided me with support, guidance and precious lessons."
~ Tanya, Ukraine
"Dear Annemarie, Thanks for almost 5 years teaching me. I always studied English, but I could only improve my skills with our classes. You always encourage me to be confident for the next step. I'm so glad to meet and study with you. Thank you!"
~ Camila, Brazil
"Dear Annemarie, Your classes really helpful to me. It allows me be successful, have more motivation in English. I happy to study with you. Thank you for your job and support."
~ Iana, Ukraine
"It was a wonderful experience which I learned a lot from. I learned new vocabularies and idioms. I liked the challenge because everyone was supporting each other. There was a spirit of cooperation and sharing. It benefited and helped me … there are changes in my English. I gained confidence and my pronunciation has been improved a lot."
~ Mai, Egypt
"To be a good teacher is a hard work, but to be a real teacher is a gift! Anne Marie, you are a real teacher who motivates to go ahead, encourages  and what is more important to make everyone believe in his/her success! Thanks to my participation in Fluency Challenge I got a great experience of communication with people of different countries, improved my speaking skills and mastered new abilities. Thank you very much, Anne Marie, for your creative, friendly and innovative approach to each student!"
~ Olga, Ukraine
"Thanks Annemarie. It was a fantastic chance to join this course. Really I got a lot of benefits and I noticed an obvious progress. I took the challenge and you supported me a lot. Thanks and looking for more packages and courses."
~ Fadia, Saudi Arabia
"Dear Annemarie, From the bottom of my heart I am very grateful for the opportunity to develop my speaking skills with you … It's was very great and wonderful experience. I loved it so much. I also would like to thank you for your emails, especially the one about Negotiating and key expressions you presented to us. Very precise explanations and useful tools for preparation, thanks."
~ Ruta, Lithuania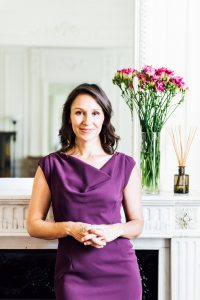 I'm Annemarie.
And you're in the right place.
You're exactly the reason I started Speak Confident English. 
I believe you deserve to be successful in your career and your life. And English shouldn't stop you. I love helping professional women who are non-native English speakers become confident and fluent in English.
I know it's important for you to communicate effectively, to share your ideas easily, and to feel natural when you speak English. I can help you do that.
Speak Confident English is specifically designed for professional women who are non-native English speakers with an intermediate level or higher. I help you develop strong English-speaking abilities, build your fluency and, most importantly, become confident in English. Training opportunities include free online lessons, one-on-one classes, and the 4-week intensive Fluency School course.
Want to know more? Join me for one of my Fluency Challenges. The Fluency Challenge is a free 10-day speaking challenge where you can begin to discover what you can really do in English.
And now the best news: you can stop dreaming about better English. Your time is now. I'm ready to take the next step with you.
Would you like to be more confident and fluent in English?
Join me for weekly Confident English lessons and the opportunity to participate in a free 10-Day English Fluency Challenge!
Professional Bio
Annemarie Fowler, MA in TESOL
Annemarie is an expert in helping you become an advanced, fluent and confident English language speaker. As a professional language trainer, she works with adults who have an intermediate level of English and who need to improve their English for work, university studies, a new job, for life in the United States or to improve future opportunities.
Annemarie has worked with a wide range of clients: senior leaders in multinational corporations, small business owners and entrepreneurs, military officers and civil servants, B2B journal publishers, and expatriates and family members adjusting to a new life in the United States.
Clients appreciate her ability to pinpoint their unique needs, identify effective solutions and deliver personalized English training – whether for work, travel or daily life – with motivation and support. She is an expert in spoken communication and preparing for presentations, speeches, debates, spoken exams, everyday conversation, etc.
In addition to her 20 years as an English language trainer, Annemarie has an MA in TESOL from The New School in New York, NY and was the Deputy Director of an English language college in Washington D.C. She has lived and worked as an English language trainer in the U.S.A., Pakistan, Czech Republic, Germany and, currently, in France. Like many of her clients, she lives her life in a second language. Her second language is French.
In 20 years of teaching, some of my key clients have come from:
Daimler (formerly Daimler-Chrysler)

Molex

Deutsche Telekom

PricewaterhouseCoopers

Philip Morris

Czech National Bank

HSBC Bank

Foreign Military Officers

Health & Beauty (B2B Magazine)

Foreign Civil Servants & Government Officials

Foreign Diplomats in Europe

Entrepreneurs and Solopreneurs

Naval Postgraduate Institute – Foreign Students

Monterey Institute for International Studies – Foreign Students
Send me a question or just say hello.