About Annemarie & <strong><em>Speak Confident English</em></strong>
I believe English confidence and fluency are possible for everyone—even the shyest English speakers.
And I believe anyone can speak English without fear, without feeling stuck. Sure, mistakes might still happen. But they won't cause embarrassment. And yes, it takes hard work and commitment. But it is 100% possible.
In my work, I see the same challenge again and again: no confidence in English. I meet women who are too nervous to share their expertise in English. Women who lose job opportunities because of fear in English. Women who feel uncomfortable in their new English-speaking home and feel stressed, even with something small like going to the grocery store.
And I understand it.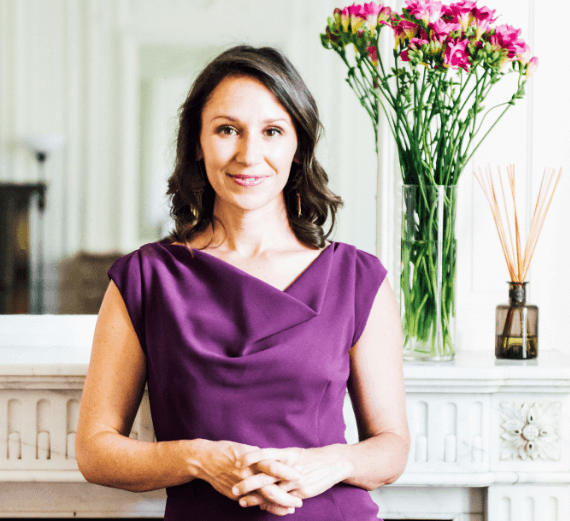 I had the same challenge in my second language—French. I studied for years. Bought grammar books. Watched videos. Took classes. But every time I opened my mouth, nothing happened. I was terrified. I felt embarrassed. 
I'm crazy passionate about solving that problem. It's my mission to help people achieve confidence and fluency, for work and daily life in English. They are the hardest to get in language speaking and I see that as an opportunity. I'm excited to make both a reality for my students through education, motivation, and my community.
To share solutions that I know work, I created Speak Confident English and Fluency School.
I believe that confidence and fluency are possible for everyone, even the shyest speakers. And for you. But it requires real practice with supportive feedback and a safe environment.
That's why every course I offer includes speaking practice in a small, friendly community and with personal support from me.
What you want in English is possible. I can help.
Speak Confident English Community Around the World
I <strong><em>love</em></strong> my community!

in <strong><em>Tbilisi</em></strong>
with Ana
Khinkali, learning about supras, and talking about Ana's life-changing work in Georgia.

in <strong><em>Riga</em></strong>
with Dace
A beautiful dinner & Latvian summer evening just before her trekking adventure.

in <strong><em>Kiev</em></strong>
with Olga, Anna, Maria, Tanya, and Alexandra
A long, happy summer afternoon wandering around Kiev = a dream.
in <strong><em>Paris</em></strong>
with Anne-Laure
Great coffee and talking about life in Paris vs. life in the U.S. just before some big moves.

in <strong><em>Paris</em></strong>
with Maeva
An apéro while talking about life in business school after moving back from Australia.

in <strong><em>Miami</em></strong>
with Cida and Monica
An afternoon talking about life in the United States, working in English & lots of laughter.

in <strong><em>San Diego</em></strong>
with Veronica
We enjoyed an afternoon talking about professional experience and life in California.
Bio and Professional Background
Anne Marie Fowler is the founder of Speak Confident English and the creator of Fluency School, where she helps women develop confidence and fluency in English.
Throughout her 20-year career in English training, Anne Marie has grown from an ESL/EFL teacher and a professional communications coach to an Academic Coordinator providing teacher training and creating materials, to the Deputy Director of a language college in Washington, D.C.
In 2014, Anne Marie launched Speak Confident English so she could focus on her passion: helping women overcome feeling shy in English so they can be successful in achieving their dreams, move forward in their careers, and feel comfortable in a new English-speaking country. She firmly believes that English should not be a barrier to success.
Anne Marie has a bachelor's degree in linguistics and her Master of Arts in Teaching English to Speakers of Other Languages (TESOL) from The New School in New York, NY. She has had the opportunity to live and work in Pakistan, Germany, Czech Republic, France, and in many states throughout the U.S.A.
Her clients are primarily business professionals, military officers and diplomatic personnel, entrepreneurs, researchers, lawyers, doctors, and Ph.D. students.

Tanya, <strong><em>Kiev</em></strong>
Of course, I had some fears that other participants will have better/ higher level than I. But it was so amazing friendly atmosphere that all my fears disappeared.

Ala, <strong><em>Slovakia</em></strong>
Thank you for an opportunity to participate. It was very supportive, interesting and challenging for me. Your calm voice was very relaxing, supportive for me. I felt safe.

Adriana, <strong><em>Romania</em></strong>
I found guidance, friendship, discipline, professionalism, involvement, everything, in one place. Thank you very much, Anne Marie, for this opportunity!

Anna, <strong><em>Ukraine</em></strong>
Without encouragement, support and comfortable communication it's impossible to achieve the progress which all of us did for a short period of time.

Emilia, <strong><em>Brazil</em></strong>
I would like to thank AnneMarie for the support and encouragement. Fluency School last year it has helped me overcome the fear of speaking in English!
Guest Posts, Interviews, & Presentations
Say What <em><strong> You Want</strong></em> in English
Download my free training on how to build the courage and confidence you need to say what you want in English.
You'll also get my Confident English lessons delivered by email every Wednesday and occasional information about available courses. You can unsubscribe any time.