An Online, Step-by-Step, Self-Paced Course
Confident Job Interviews
A step-by-step course for clear communication, clarity, and confidence in your next English job interview.
You've searched online for tips about job interviews in English. You hope it's good advice but...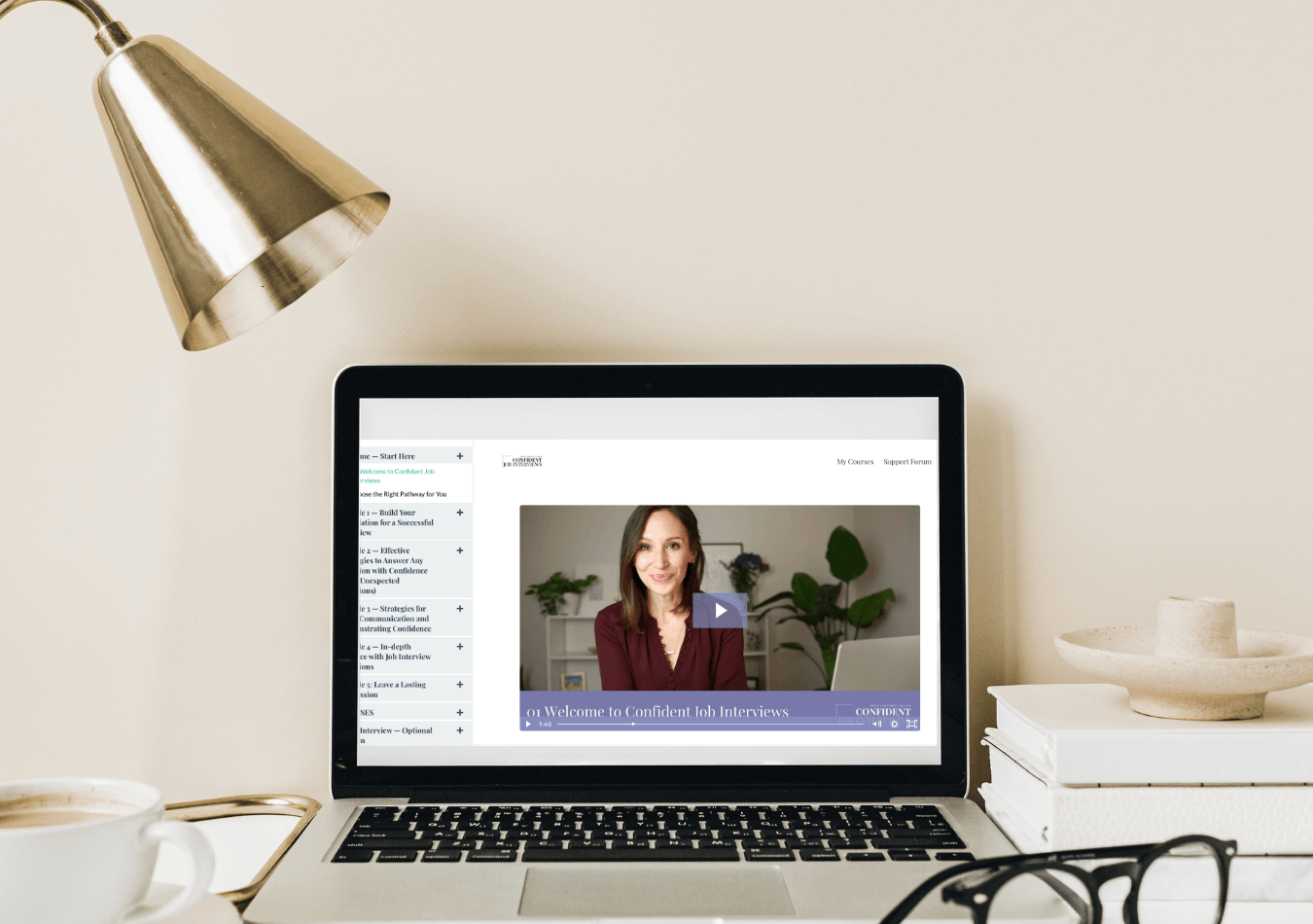 Do you…

Feel comfortable talking about yourself and your career, including your skills and achievements, without feeling embarrassed?
Can you…
Use the right words to speak clearly and directly, without a lot of 'um' and 'ah' sounds or fear of mistakes?
Are you
Ready for any question in the interview—even a surprise question—not just the questions you prepared for?
Can you…
Speak in an assertive, confident way about your skills but not sound arrogant?
If you said no, don't worry.
I can help you say yes to feeling confident and ready for your job interview in English.
That's exactly what I do and why I'm here.
You already have the qualifications and skills for the job.
But English is stopping you. Fear of judgment. Fear of making mistakes. Fear that your English isn't good enough. Fear that you'll forget everything.
But that can change.
For me, it's not just about English. It's about you, your life, and the dreams you have for your future.
You don't need to wait to get the job you want.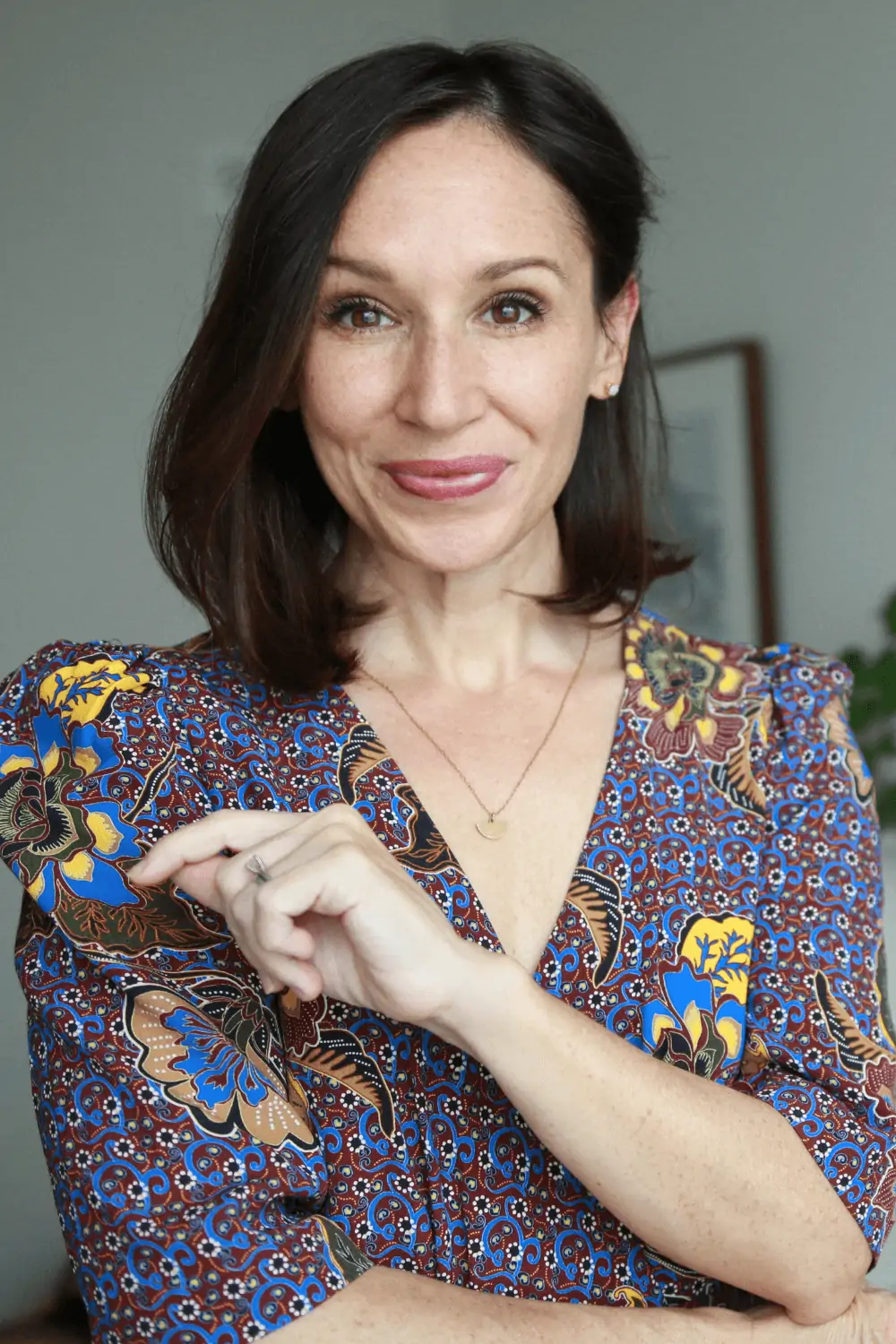 The Confident Job Interview Course was essential for my success! It helped me to prepare myself for the questions during and at the end of the interview and my oral presentation. After reading, studying and practicing I felt truly confident for the big day.
During the interview and the other activities, I was relaxed and I knew if I performed as I had prepared, the position would be mine.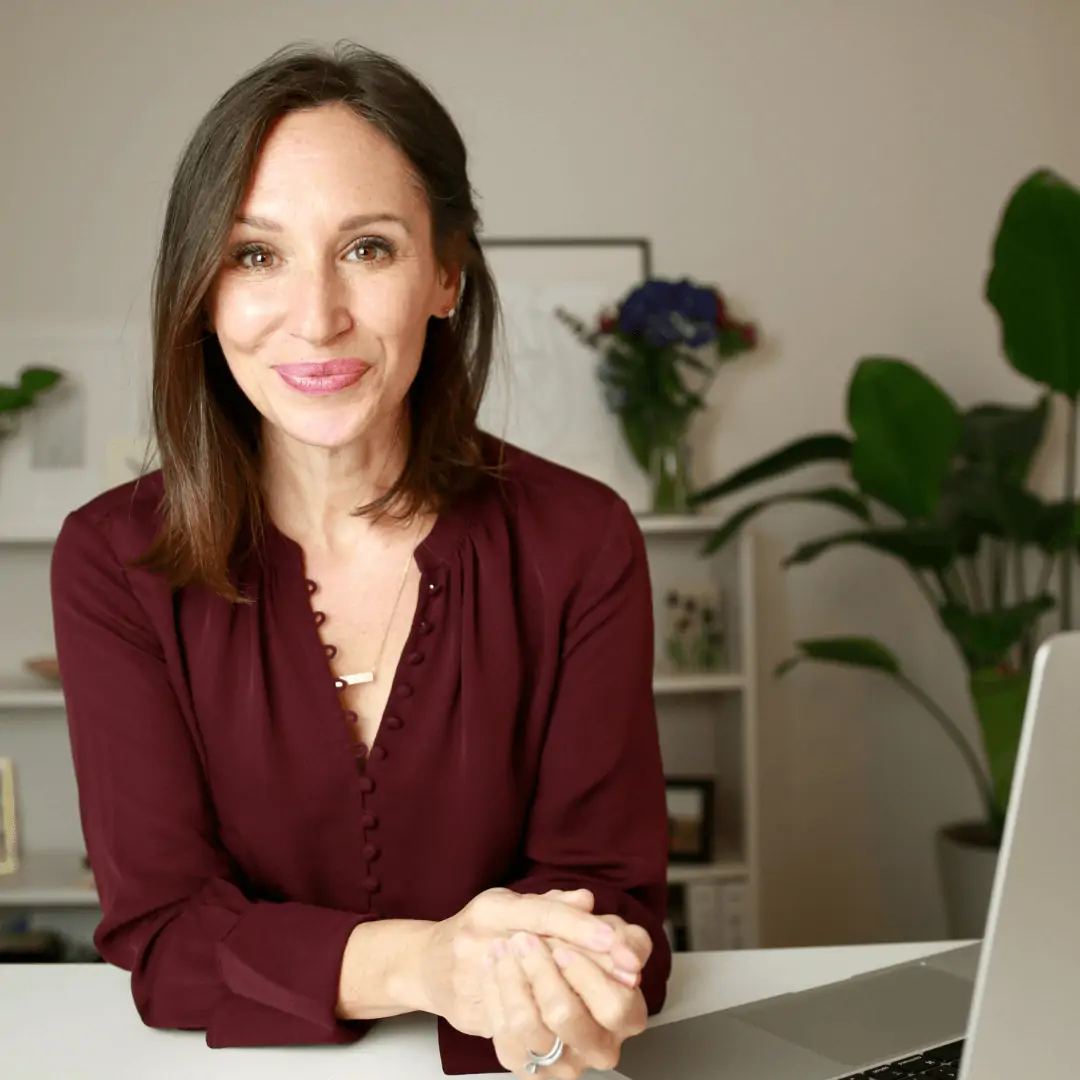 Here's Exactly What You'll Learn How to Do:
Identify your strengths and learn how to talk about them in a job interview

Select powerful adjectives to describe your expertise and skillsets

Focus on your professionalism & expertise without worrying about your English

Prepare impressive, compelling answers to any question

Feel authentic talking about your strengths and expertise

Give precise answers to any question without memorizing or feeling stuck

Handle difficult questions with ease, even unexpected or unusual questions

Communicate confidence through clear communication, voice control, & more

Demonstrate professionalism from start to finish, even after the interview

Understand what interviewers are asking & what they want to know about you

Be comfortable and confident

 

talking about yourself in a job interview
Ultimately, you'll go from worrying about your English to feeling confident in your ability to express yourself freely and share your professional expertise in the interview.
I would also like to tell you that the Confident Job Interviews course is helping me a lot to know how to communicate my value and what I bring to the job, with colleagues and bosses in the office, and in networking conversations.
My limiting belief was that I didn't want to sell myself and I expected the other person (boss or colleague) to see the results of my work and that would be enough.
I have realized that I must be the one who communicates my work well, without arrogance, but with clarity and without making myself lesser.
Therefore, these techniques are helping me to better read situations at work and to focus on communicating my competencies with confidence and without so much embarrassment.
What My Students Say
Success Stories
Many things have changed for me. Now I feel more confident in my abilities to talk about myself and my career. I have all the necessary strategies to succeed in my interview.
I got my new job after a month of joining Confident Job Interview Course!! During the interviews, I was really confident with clarity, and sharp and able to handle almost all of the questions thrown at me! Now I could understand why Annemarie wants us to do all those amount of exercises!
I truly couldn't have done it so well without the course. This is by far one of the greatest investment I had made. Thank you!
I want to thank you SO much for the Job Interviews Course, cause you cannot imagine how much it helped me today.
The interview took approximately 3 hours and included 2 written questions. I was interviewed by 3 people. And guess what? I did it very well. They paid compliments to my background, my English, and they also praised my resume.
All the questions the interviewers asked me were part of our course. Thanks for your support, empathy, kindness, and talent to unlock your students.
I start working next Tuesday and I'm very excited to get started. You're an important part of it. Thank you again.
This is really a useful course for me not only in my future working but in my daily life as well.
Preparing and practicing an interview with your Modules make me feel more confident to be able to get a successful interview in the future.
Thank you from the bottom of my heart for your help, support and guidance through such a challenging process.
I believe your courses are much more than learning English. It could really be life-changing experience 🙂 Especially for shy people like me.
I am saying it not only because I achieved my goal of getting a job, but because I feel different as a person: more courageous, positive and definitely more confident. I think all the skills that you teach us are very important in everyday life.
And Confident Job Interviews course exceeded all my expectations! I couldn't be more grateful for it.
Honestly, I'm really impressed with the Job Interview Course. It's super useful for people who are looking for a job or just interested in a job in foreign companies or English speaking countries. It has all necessary information you need to know to prepare your best interview ever!
I've got to know so many new things and practiced them. There's a big difference between interviews in my country and interviews in English! And it's very important to know this difference and be prepared!
Confident Job Interviews
Course Topics
The skills and practice you need for clarity, confidence, and clear communication at every step.
Module 1: Identify & Align Your Strengths
Knowing your strengths is critical for a successful interview. Follow guided activities to identify your strengths + select powerful vocabulary to highlight your expertise, skills, and more. 
Module 2: How to Answer Any Question
Even the unusual or unexpected. Use a simple strategy to provide clear, effective answers without memorizing or feeling worried about getting stuck if you get a question you didn't practice.
Module 3: Demonstrate Confidence
Controlling your voice, communicating with clarity, and demonstrating confidence are 100% in your control. Even if you feel nervous on the inside. Learn strategies that have an immediate impact.
Module 4: Interview Question Practice
Get insider details on questions interviewers ask and why they ask them, alternatives you might hear, and step-by-step strategies to develop your answers. Plus, easy-to-follow examples for a variety of questions.
Module 5: Leave a Lasting Impression
Be memorable, from start to finish, with simple steps that demonstrate your interest in the position and help you stand out among your competitors. Plus, common mistakes to avoid.
Free Bonuses
Throughout the course, you'll get bonus checklists, guides, templates, and more to help you perfect your interview skills. Plus, get personal support and opportunities for feedback in our members-only community.
60-Days Support
Ask questions, share practice answers, & get feedback in our community forum.
Self-Guided Pathway
Whether you have 3 days or 3 months to prepare, there's a pathway to follow.
Lifetime Access
Once you are a student in the course, you have permanent access to the materials.
Instant Access
Get started right away and have instant access to the entire course. Use a guided pathway to review the course content as quickly or slowly as you need.
Videos, Worksheets, Templates
Follow your path through more than 30 lessons with the videos and materials you need to learn, practice, and get support.
Want More Practice? Purchase a 1:1 Mock Interview.
In addition to the Confident Job Interviews Course, you can purchase and schedule a 60-minute 1:1 mock interview, which includes personalized feedback. This is available inside the course.
The option to purchase a practice interview is ONLY available to Confident Job Interview students.
IMPORTANT: This is not part of the Confident Job Interviews course when purchased.
This available as an optional add-on for Confident Job Interview Students to purchase inside the course.
Full Course Overview — Lesson by Lesson
Welcome
Welcome to Confident Job Interviews
Choose the Right Pathway for You
Module 1: Identify & Align Your Strengths
Identify Your Strengths & Power Words
How to Talk About Your Work Experience Effectively
The Importance of Using Keywords
Get Ahead of Your Competition
Strategic Word Choices for Your Interview
Module 2: How to Answer Any Question
A Simple Story-Telling Technique to Highlight Your Experience and Expertise
Why Interviewers Ask Unusual/Unexpected Questions & How to Respond
How to Talk about Your Weaknesses
Handling Mistakes in the Interview
Develop a Well-Structured Response to Interview Questions
Module 3: Strategies for Clear Communication & Demonstrating Confidence
Use Your Voice to Demonstrate Confidence
Communicating Clearly — Particularly on the Telephone
Rapport-Building — What Is It and Why Do You Need It
Module 4: In-Depth Practice with Interview Questions
The 'Don't Waste Your Time' Strategy for Practice
Tell Me About Yourself
Questions about Your Strengths
Why Should We Hire You
Questions about Weaknesses and Mistakes
Why Do You Want This Job
Why Did You Leave Your Last Job (or Why Are There Gaps on Your Resume)
What Are Your Future Goals
Tell Me About a Time When… (Behavioral Questions)
Handling Unusual Questions
Questions about Salary
Module 5: Leave a Lasting Impression
Which Questions to Ask at the End (and Which Questions to Avoid)
Simple Steps for Massive Impact
Bonuses:
60-Days of Support in Our Members-Only Forum
Presenting a Professional Image in English at Every Step
And more.
Get Started Now
Choose the Plan That's Right for You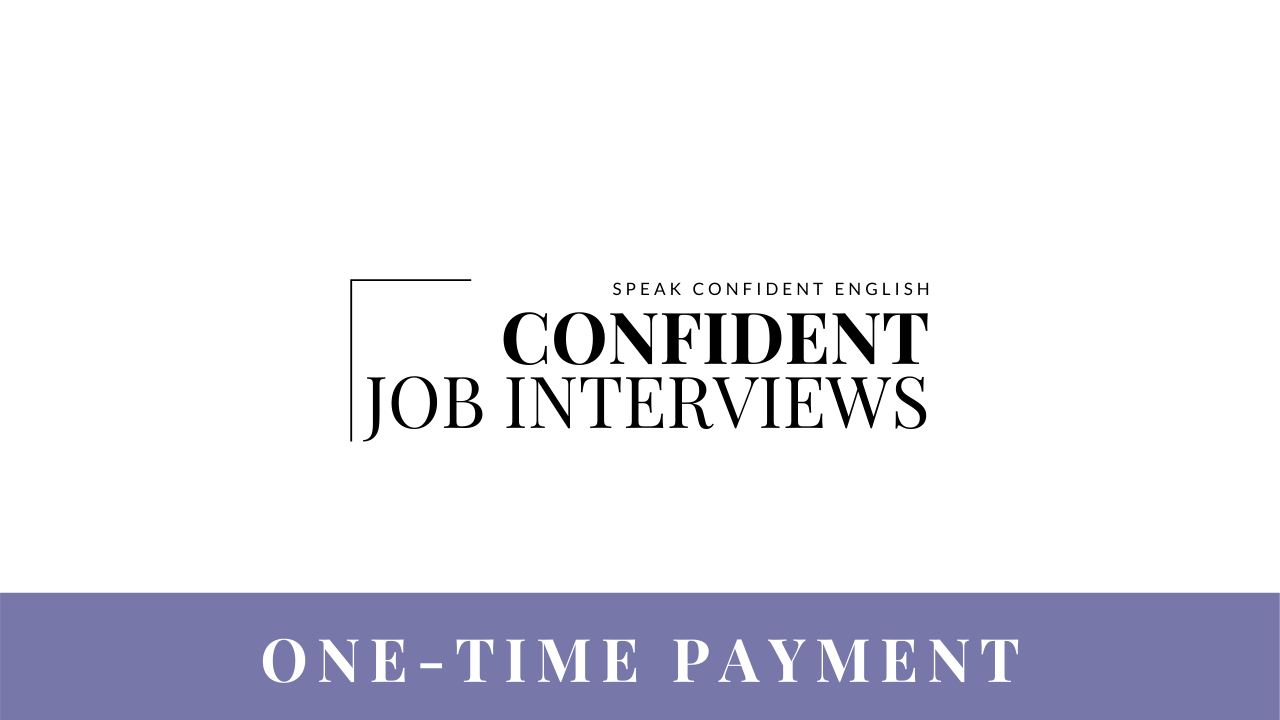 Most Popular
Make just 1 payment (and save $68 USD) for immediate access to the course including:
Lifetime access
30 lessons with videos, worksheets, and templates
60 days of support and feedback in our community forum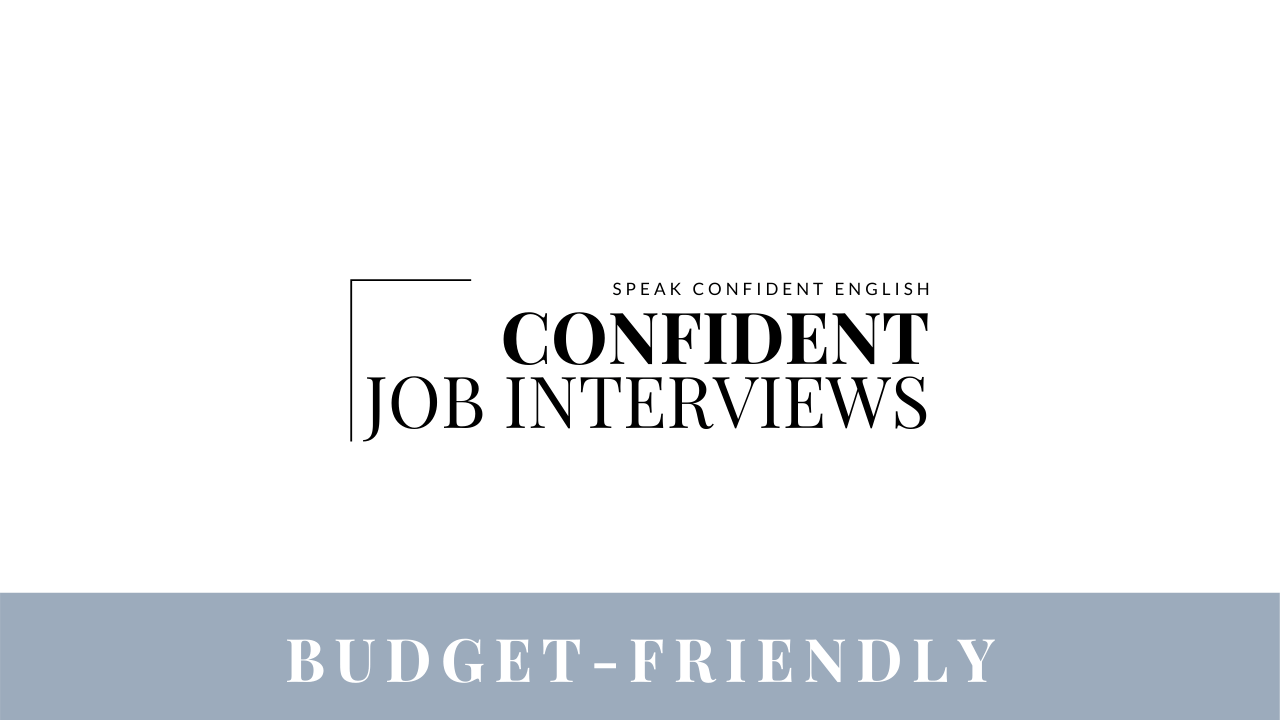 Budget-Friendly 3-Month Plan
Make 3 monthly payments that total $315 USD for immediate access including:
Lifetime access
30 lessons with videos, worksheets, and templates
60 days of support and feedback in our community forum
THREE MONTHLY PAYMENTS
$105 per month for 3 months
Have a Question?
Frequently Asked Questions
What are the start and end dates?
Confident Job Interviews was created as a self-paced course.
What this means is you can start the course immediately. When you register, you get instant access to the full course. You can complete the material, share your practice answers, and get feedback as you complete the course, as quickly or slowly as you need.
It's designed to help you when you need it the most.
What does lifetime access mean?
Lifetime access means you only need to purchase the course one time and you have it permanently.
As long as I offer Confident Job Interviews, you'll be able to use the course materials.
This also means that if I add new materials or update something in the course, you'll be able to take advantage of it.
Will I get feedback?
Students in the course get 60-days inside our private Support Community Forum.
In the Community Forum, you can ask questions, share your practice answers, and get feedback.
Feedback is provided directly in the forum.
Note: We do not accept audio/video clips sent via email; we only accept audio/video files submitted inside the forum.
Is there a guarantee?
We offer a 14-Day 100% Risk-Free Guarantee.
What does this mean?
It means that if you complete the work in the course but don't find it valuable, you can request a 100% refund in the first 14 days after purchase. However, if you don't do the work in the course, you won't be eligible for a refund.
*Note: While I can guarantee that this course will help you be fully prepared and confident for your job interview, I cannot guarantee that you'll get the job after an interview.
How will I access the course?
When you register for Confident Job Interviews, you'll create a username and password to access my online course.
When you log in to the course, you'll have all the course materials, including worksheets and videos, and the Support Community Forum.
My interview's in 3 days. Will this help?
Great question!
I know your timeline for planning is unique.
To help, I've created 2 pathways through the course:
The Fast Track Pathway
The Slow and Steady Pathway
These are downloadable documents that will guide you through the course to get the most impact.
Will you review my resume?
A resume review/edit is not included in the course purchase.
However, it is optional to purchase a resume edit inside the Confident Job Interview course as an extra service.
A resume edit is a flat rate of $80 USD. This service must be paid for in advance and requires a minimum of 4 days.
Can I do a mock interview with Annemarie?
A mock or practice interview is an opportunity to do a 1:1 real-life practice of the questions you might receive in a job interview.
For students inside the Confident Job Interviews course, Annemarie provides an option to purchase and schedule a 60-minute mock interview.
This includes 45 minutes of interview practice and 15 minutes of feedback.
This option is not available to the public; it is only offered to Confident Job Interview students.
100% Risk-Free Guarantee
Confident Job Interviews comes with a 100% Money Back Guarantee.
While I cannot guarantee that you'll get a job, I can help you do your absolute best with confidence.
I'm absolutely certain that when you fully commit to this course, when you do the work, and use the personal feedback to help you, you'll be ready and confident for your job interview in English. That's why in order to receive a full refund with the 14-Day Money-Back Guarantee, you must show that you've completed the work in the course.
This means that if you do the work in the course but don't feel it's valuable to you, then you can send your completed work within 14 days for a full refund. However, if you do not complete the coursework, you will not be eligible for a refund.