Waiting for the right time to change your English? It's time.
Fluency School is a 1-month intensive speaking program for shy English users who want to feel free in English, speak clearly and have confidence. The course is designed and led by Annemarie Fowler with Speak Confident English.
Fluency School is open two times per year.
To learn more and get updates about the next course, join the waitlist.
Get the Speaking Practice You Need
with Fluency School
Join me for live small group classes. 
Confidence and fluency come from speaking practice. That's why Fluency School includes live small group classes with me in my online classroom and personal feedback to make real progress in your English.
Conversation can't improve without speaking. Join me for daily small group discussions in my online classroom. Multiple classes available each day.
Enjoy friendly conversation, daily support, and encouragement for every step you take in English in this private community.
Get personal support on what you need the most in English through feedback and one-on-one attention from your teacher.
Waiting for the Right Time
to Change Your English?
Good news. Now is the right time.
How can Fluency School help you?
English Fluency through Daily Small Group Classes
Fluency School is an intensive online English speaking course. With Fluency School you'll: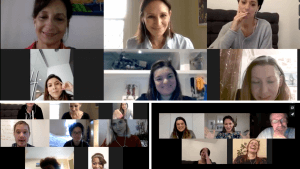 Learn strategies for building confidence and improving fluency.
Get daily speaking practice in small group discussions and speaking tasks.
Use feedback to improve accuracy and make progress.
The solution to fluency is simple – speaking. Fluency School offers you real speaking practice with feedback for progress in your daily conversation skills and professional English needs.
Here's What You Get with Fluency School
English Confidence through Encouragement and Feedback
Every day, you'll work with Annemarie – an expert in developing fluency and promoting confidence in spoken communication – and get the speaking practice you need to stop feeling shy, stuck, and frustrated in English.
Fluency School's combination of daily speaking practice + advanced training in a safe, comfortable environment creates real change in your English.
With the course, you get:
15 live small group conversation classes
12 speaking tasks with personalized feedback from your native English teacher
12 videos on speaking skills to advance your know-how
12 conversation guides and worksheets to boost vocabulary and confidence using real-life English
Plus advanced grammar & vocabulary guides, bonus training lessons, phrasal verb practice and more
Want to know more? Get all the Fluency School Course Details.
Is Fluency School for You?
Whether you want to communicate easily in business meetings, present your expertise to an international audience, or become friends with co-workers and neighbors in your new country, Fluency School will help you:
Share ideas and suggestions
Prepare for a job interview
Participate in discussions
Speak without translating
Succeed in a speaking exam
You can do all this in English – without fear – and build successful habits so you don't lose your progress.
I believe you should be able to get professional English training, no matter where you live or work. I've made Fluency School flexible for busy schedules and different times zones. Wherever you are, you'll get:
Small group conversation classes
Personalized feedback & attention
Advanced English video training
Fluency & confidence-building skills
Private support community
Fluency School is designed for shy English speakers.
"I noticed changes in my pronunciation and my fluency. I'm more spontaneous."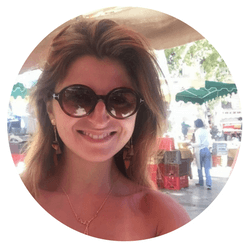 "You will advance and deepen your knowledge of the English language in Fluency School."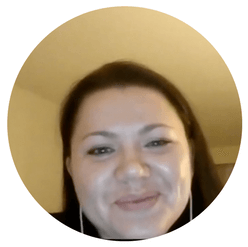 "In my opinion, Fluency School was amazing! It was different, creative and challenging!"
Medical Researcher, Brazil
Founder of Speak Confident English and Fluency School
"I love helping shy English speakers become confident and able to speak with anyone in English, at work and in daily life."
Annemarie believes that English should not be a barrier to your success. If you'd like to speak English more naturally in business meetings and with professional contacts, if you want to present your expertise to international audiences, or if you want to make friends and feel comfortable in your new life in a new country, Annemarie can help you do that.
Fluency School was created by Annemarie with Speak Confident English. This online speaking course is offered two times per year. Join today to get the free Fluency School training. It's a special preview of the course.
© 2018 Speak Confident English