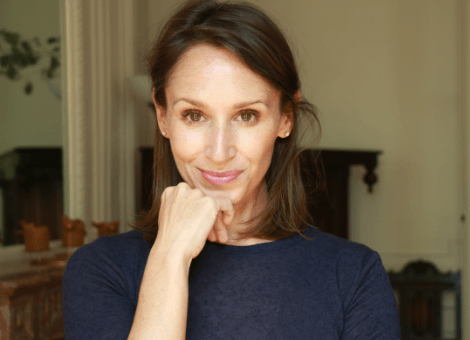 Annemarie
Director/Teacher
Annemarie
Annemarie is the founder of Speak Confident English, which she launched in 2014. She has worked with adults learning English for over 20 years and has her MA in TESOL.
Annemarie created Fluency School and Confident Job Interviews because she is committed to helping international women live life in English with confidence.
Since launching Fluency School, she has helped hundreds of students from 63 countries and every Wednesday, she shares Confident English lessons with more than 175,000 followers in her community.
Fun Facts: I've moved 13 times in my life so far and I've lived in 5 different countries—the U.S., Pakistan, Czech Republic, Germany, and France. And I'm not finished! I love living in new places. After a few years in one place, I'm ready to go. Also, for a few years I had a small yogurt-making business with my best friend. Yep. That is a real fact. And finally, French is my second language.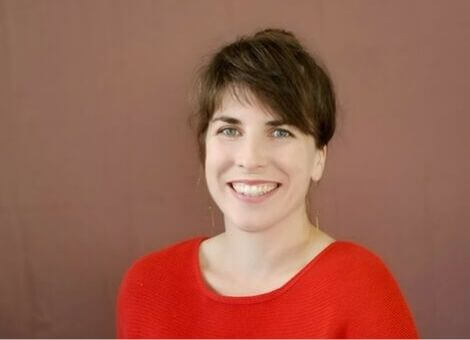 Anna
Anna teaches in our Advanced Conversation course and she provides 1:1 classes.
She has worked in education for over ten years, originally working in Oregon public schools as an elementary school teacher. Once she discovered the magic of teaching English language however, she was hooked! Since earning her Master's in TESL, Anna has taught for a variety of programs, working with predominantly adult students. She particularly enjoys helping students express their personality and unique character as they develop their skills as English language learners.
Anna has lived most of her life in the very beautiful and very wet Pacific Northwest, with the exception of two non-consecutive years in Japan and a year in Puerto Rico. When she isn't teaching, she enjoys hiking in the forest around Mt. Hood, camping year-round, and exploring the Oregon coast.
Fun Facts: I have always enjoyed movement arts and over the last 15 years I've studied the martial arts kung fu and tai chi, as well as a variety of dance styles including salsa, Argentine tango, swing, European folk, and Bollywood. I've taken part in a few competitions, taught some classes, and even performed in front of an audience once or twice. It is rare that I will sit still if there is live music playing.
Courtney
Courtney teaches in our Advanced Conversation course and she provides 1:1 classes focused on confidence-building, fluency, and professional English skills.
She has taught for 12 years, including teaching students in North Carolina Public Schools for 11 years and teaching English in Athens, Greece. In 2013, she received her Master of Education with a focus on TESOL. For the past 3 years, however, she has coordinated a video program that helps small businesses and non-profits share their story through video.
Courtney has traveled to and lived in many countries including Australia, Greece, Mexico, Uganda, South Africa and Poland. Her experience learning different languages, such as Greek and Spanish, has helped her to identify with language learners of various backgrounds.
Fun facts: My husband and I are passionate animal lovers, especially dogs! We have one Corgi/German Shepherd/Basset Hound mix named Clover. We also foster for a local Corgi rescue and have helped re-home 3 precious Corgis since 2017. We will be taking a break from fostering, however, as we will be adding a human to our family in the near future. Our baby boy is due in Fall 2019!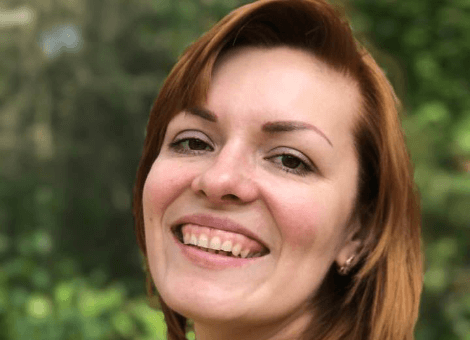 Tanya
Customer Happiness Specialist
Community Manager & Happiness Specialist
Tanya
Tanya is a passionate English language learner and speaker from Kyiv, Ukraine.
You'll find Tanya active in all of our courses to support students and in our social media groups. In addition to managing our online communities, Tanya is a mentor to new students in the Fluency School course.
We also like to call her our happiness specialist because of her optimism and positivity, which we believe is essential to confident English skills (and she makes our team happy too!).
Fun Facts: I have a sweet tooth. I can barely live without a piece of a dark chocolate. I usually eat it with my morning coffee. Also, traveling is my passion. I have a dream to visit all countries and meet new people. My favorite place, where my soul has a rest, is in the mountains! I speak Ukrainian, Russian, and English.
Say What You Want
Download my free audio training on how to build the courage and confidence you need to say what you want in English.
You'll also get my Confident English lessons delivered by email every Wednesday and occasional information about available courses.
You can unsubscribe any time.