Communicate with Confidence.
Join over 9,000 others in the Confident English Community & enjoy my free resource library created to advance your English speaking skills. 
Success Stories & Reviews of Speak Confident English
Are you thinking about joining me for my Fluency School course or a one-on-one class? Are you curious what it's like to work with me or if I can really help you develop your fluency and confidence?
Find out what can happen for you and your English from my students. Be inspired by their success stories. And don't forget: success in English is possible for you too.
"I did a presentation in English at work today, to do that I followed the steps that Anne Marie suggested in a previous lesson about How to do a good presentation in English".
To be ready, I practiced my talking a lot, and also I presented to a friend to receive some advice. Of course, I was nervous during the presentation, but I did my best to explain everything with confidence. In the final of the presentation, I received positive feedback from my boss, and I'm feeling relieved and happy.
I would like to thank AnneMarie for the support and encouragement. I'm glad that I did Fluency School last year it has helped me overcome the fear of speaking in English and I'm feeling much more confident now! THANK YOU!!!"
Emilia
"Maybe it can be useful for those of you who are just thinking about it. The main reason I joined Fluency School for the first time was to practice my speaking skills. It was so challenging for me to start talking. I was like a dog: understood everything, but couldn't speak. So Fluency School helped me to overcome my fears, believe in myself, I realized that I could talk to others, I cou

ld express myself, I could participate in discussions! 
My second participation was a bit different: my main focus was on my pronunciation, how to avoid fillers, what to answer on spontaneous question or if you don't understand the question at all. 
Of course, I had some fears that another participants will have better/ higher level than I. But it was so amazing friendly atmosphere that all my fears disappeared. 
I will never forget this fantastic course, because it has changed my life! We had so many interesting tasks and one of them was to say about your three strength. It's a common question in a job interviews. And I used all my answers for this question at my first job interview in English. And I succeeded!! It was my first victory!"
Tanya
"I had a very great experience with Fluency School. It is worth to take time and energy in this course. It works great. I became confident in English. I had support and encouragement from you, it is valuable. Also it is very important that I met very interesting people from different countries."
Ana
"I think I'm more confident in my speaking, since I've learnt a lot from you and from other participants.
To say it very simply –  I've just loved your comments and comments from others. I've accomplished many others – improving my accuracy and fluency. Thank you 1000x Anne Marie for all your hard effort 🙂
One more time, I truly from my heart thank you for an opportunity to participate. It was very supportive, interesting and challenging for me. Your calm voice was very relaxing and supportive for me and I felt safe."
Ala
"The course ended exactly one day before a job interview that I had and I felt really confident for the job interview.
As a result, I GOT THE A JOB! Furthermore, it was amazing to watch videos from people all over the world, with different accents and opinions!
I was able to improve my confidence while giving answers and explanations about different topics. Besides, it was a great opportunity to train myself on giving answers in a specific period of time. It helped me because as part of the job interview I had a 2 minute presentation, and since I had done videos and trained a lot, it became easy to accomplish this task."
Thayná
"I think that I increased my fluency a lot. It's easier to speak about different topics without much time for thinking how to say what I want. And I definitely extended my vocabulary with new phrasal verbs.
I love the challenge. It pushed me to think faster and speak fluently!
Without encouragement, support and comfortable communication it's impossible to achieve the progress which all of us did for a short period of time. I hope I will find a job soon and will be able to join the Fluency school. It's my dream!"
Anna
"The course was extraordinary experience. I have made it to the end and now I feel great about myself. This was exactly what I needed to improve my speaking abilities.
Anne Marie is the best teacher ever and my group was the greatest one! I have learned a lot of new words, phrases, idioms and expressions. I have improved a lot of my grammar issues. And finally, I have no problems to speak English aloud."
Michaela
"This is a great program for everybody who would like to advance the ability of speaking fluently and confidently in English. The capstone of my expectation was to break through the inhibition of my brain… this month I pored over learning English. Part of the fun consists of an allure, what Annemarie has. This is a crucial effect. Annemarie, you grease the skids of speaking confidently in English. It was a joyous month for me."
András
"To be a good teacher is a hard work, but to be a real teacher is a gift! Anne Marie, you are a real teacher who motivates to go ahead, encourages  and what is more important to make everyone believe in his/her success! Thanks to my participation, I got a great experience of communication with people of different countries, improved my speaking skills and mastered new abilities. Thank you very much, Anne Marie, for your creative, friendly and innovative approach to each student!"
Olga
"I appreciated the diversity of topics with the emphasis on being concise, coherent and creative, following a timing, I also noticed the seriousness and the involvement of Anne Marie who always corrected and offered feedback for every participant. I felt a big connection between her and all participants.
I have learned by my mistakes that I have done during the challenge and after Anne Marie's correction, I know now how to use properly some verbs, some tenses, conditionals. I have become more confident and less scary to speak English because I was able to talk with a diversity of people, from different countries and they understood what I said.
I found guidance, friendship, discipline, professionalism, involvement, everything, in one place. Thank you very much, Anne Marie, for this opportunity!"
Adriana
"Honestly, a month ago I wasn't sure that this jump into Fluency with Speak Confident English help me to improve my English level. I used to a lot of different practices and still found my listening skills not well. But now I know one important thing – everything is possible if you do it every day and if you have fun!
What I loved best was an absence of strong frames in the tasks. It makes you free in your choice and let found out something interesting for you, let you be creative and success in your practice together. I have loved to have studied English with Annemarie and I hope I will keep it power for a long time!"
Yulia
"I didn't believed I would be asked to make so much online action. I didn't expect so much interaction between me and other participants and teacher (In fact I think this interaction is the real reason of Fluency School's success). But now I am surprised in very pleasant way about Fluency school!" 
Dace
"I have had a great time [in Fluency School] with nice discussions and warm encouragement. I strongly recommend this course to everyone who desire to experience different and attractive way of teaching and learning. There is not any boredom in this Fluency School."
Elena
"In my opinion Fluency School was amazing!It was different, creative and challenging! I learned so many things and more importantly it keep me motivated during the course because you provide to us a variety of activities and I didn't get bored. I studied a lot, I did the activities I committed to the course and I think all was really important to me accomplish more confidence to speak.
I noticed that after this course, I can speak more confidently, without be afraid of my mistakes. In addition, my vocabulary and grammar grew because I started to practice different topics during this course at the small groups discussion and speaking tasks. I also had the opportunity to learn new phrasal verbs and functional language that I am trying to apply in my conversations with friends and with coworkers."
Emilia
"I would like to say thank to Anne Marie who is the best teacher, who taught us in great ways that can make us improve English very fast. Especially speaking English skills."
Phanna
"Dear Annemarie, Thanks for almost 5 years teaching me. I always studied English, but I could only improve my skills with our classes. You always encourage me to be confident for the next step. I'm so glad to meet and study with you. Thank you!"
Camila
"I'd like to share that Fluency Challenge was very helpful for me and I'd love to continue. I like Annemarie's method of teaching that's why I've always felt comfortable and became more confident time by time."
Tamo
"I love the way that Annemarie gave us comments and suggestions to make our English more attractive, and the way she taught and encouraged us to keep going on our dream to become more fluent. She is very amazing teacher and mentor to us. We really love her and I salute her for the job well done." 
Arlene
"You make my work on my own English language easier and more interesting. I'll be waiting for your next lesson with impatience."
Elena
"Dear Annemarie, From the bottom of my heart I am very grateful for the opportunity to develop my speaking skills with you … It's was very great and wonderful experience. I loved it so much. I also would like to thank you for your emails, especially the one about Negotiating and key expressions you presented to us. Very precise explanations and useful tools for preparation, thanks."
Ruta
"Dear Annemarie, I'm very grateful that I've joined the fluency challenge.  It was of great help for me. I could see the improvements of my confidence through this challenge. You're one of my favourite teachers, because you focus on how to improve the process of learning."
Khalid
"Dear Annemarie, Your classes really helpful to me. It allows me be successful, have more motivation in English. I happy to study with you. Thank you for your job and support."
Iana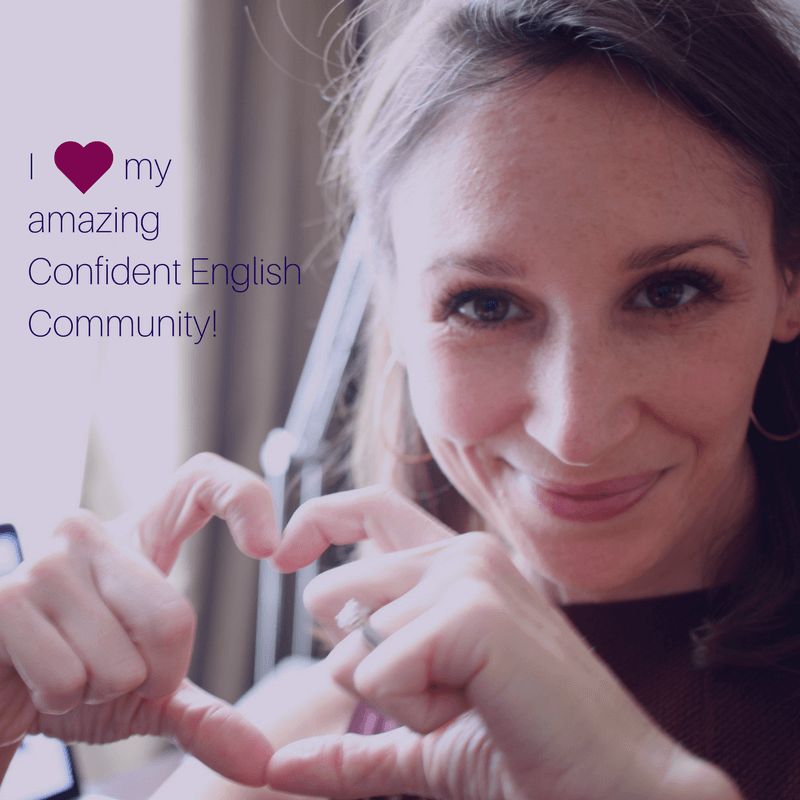 "Thanks Annemarie. It was a fantastic chance to join this course. Really I got a lot of benefits and I noticed an obvious progress. I took the challenge and you supported me a lot. Thanks and looking for more packages and courses."
Fadia
"Dear Annemarie! I'm so grateful to you for this Fluency  Challenge! It was an amazing time! Thank you for this opportunity to improve my speaking! Thanks for your support and inspiration!!! I'm looking forward to a new Fluency Challenge! I'll be there for sure! I'm so happy to have met you! And thank you so much!!!!" 
Tatyana
I received your email and I was so impressed by the (super organised) plan and tracking sheet.
And the best part in the plan doc is the sentence "I am here to help you" you put as the last line in every paragraph! It made me feel so comfortable and easy!
I'll start my first 30 days big journey from tonight."
Ji-eun
"Thank you very much for last video lesson about mistakes. I can imagine how it was, but this story inspired me. Thank you very much for your lessons, for your energy and enthusiasm."
Yulia
"Dear Annemarie, I would just like to thank you for your valuable lesson, they are very interesting and I hope to receive more in future."
Zahra
"Hello Annemarie It was a pleasure to make a conversation with you, I am really grateful for you."
Manal
"Hello Annemarie. I want say thanks for all lessons. It is really very useful for me. Unfortunately I have not enough free time. I have a job. And after work I spend all my free time with my son, but I always find time for your lessons. And thanks for Achieve English Fluency. I have read some pages and want say that it is not just boring advice how to improve English….it is interesting to read. I like it the most because it is so easy to read, all is clear. And also with videos. Very hard express all what I think in a second language …so I just say THANK YOU SO MUCH!"
Victoria
"There are lots of changes in my English. One of these changes is that I have the boldness to use English with anyone without being nervous. The greatest benefit for me is the feedback and the comments after making challenges, and I learned a lot from my teacher and the other participants."
Shatha
"I joined in this because I wanted to get rid of my shyness when speaking to new people using a foreign language. I wanted to improve my English speaking skills by using different techniques. I needed to speak English fluently. As for the accomplishment, I have become less shy and nervous even when I met my learners during the first week I felt this power inside me."
Asma
"It's been awesome to be part of this challenge and get to know new people! Well, I already miss this whole thing and look forward to receiving new invitation for another Fluency Challenge and meeting you all there!!! Thank you Anne Marie so much for such a great experience and a huge motivation to learn more, I appreciate deeply what you do! This is my 13th challenge and it differs from the 1st one, that means there is a progress which is good!"
Maria
"It was a wonderful experience which I learned a lot from. I learned new vocabularies and idioms. I liked the challenge because everyone was supporting each other. There was a spirit of cooperation and sharing. It benefited and helped me … there are changes in my English. I gained confidence and my pronunciation has been improved a lot." 
Mai
"It was a wonderful experience and motivating, I mean that Anne Marie has succeeded to motivate me to share the comments because of her special way in highlighting the positive things that have been said, and how she help us to do self-correction."
Rafif
"I am very grateful for amazing time I spent here with amazing people! And thank you Anne Marie Fowler  for your assistance. I guess, You have a lot of students depending on you, and I really appreciate your taking the time to give us so much individual attention. Your passion and patience has left an impact on me that I will never wear out."
Natalia
Do you have a success story to share?
I'd love to know about your experience with Speak Confident English! Feel free to send me a message using the form below. I read and respond to every email. I'd love to hear your story.