Your Guide to Talking about the Holidays in English
Your Guide for How to Talk about the Holidays in English
Updated from its original post on December 23, 2015.
December is the month of holiday parties, cakes and cookies, decorating trees, lighting candles, drinking hot chocolate, wrapping gifts, spending time with loved ones, and reflecting on the year.
It is a celebratory month with several holidays our diverse cultures and religions. And, of course, it is also the end of the calendar year. The New Year! A time for reflection and a time for planning.  
What about you? Will you take time off of work, travel to meet with friends and family, or prepare some special meals? Are you curious about how your English-speaking friends or colleagues celebrate the holidays? 
Learn everything you need to know so you can focus on laughter and joy instead of feeling nervous about what to say!
With this lesson you'll learn about:
December holidays celebrated in the United States

holiday greetings and well wishes for friends, family, and co-workers

conversation starters about the holidays 

useful vocabulary for talking about holiday traditions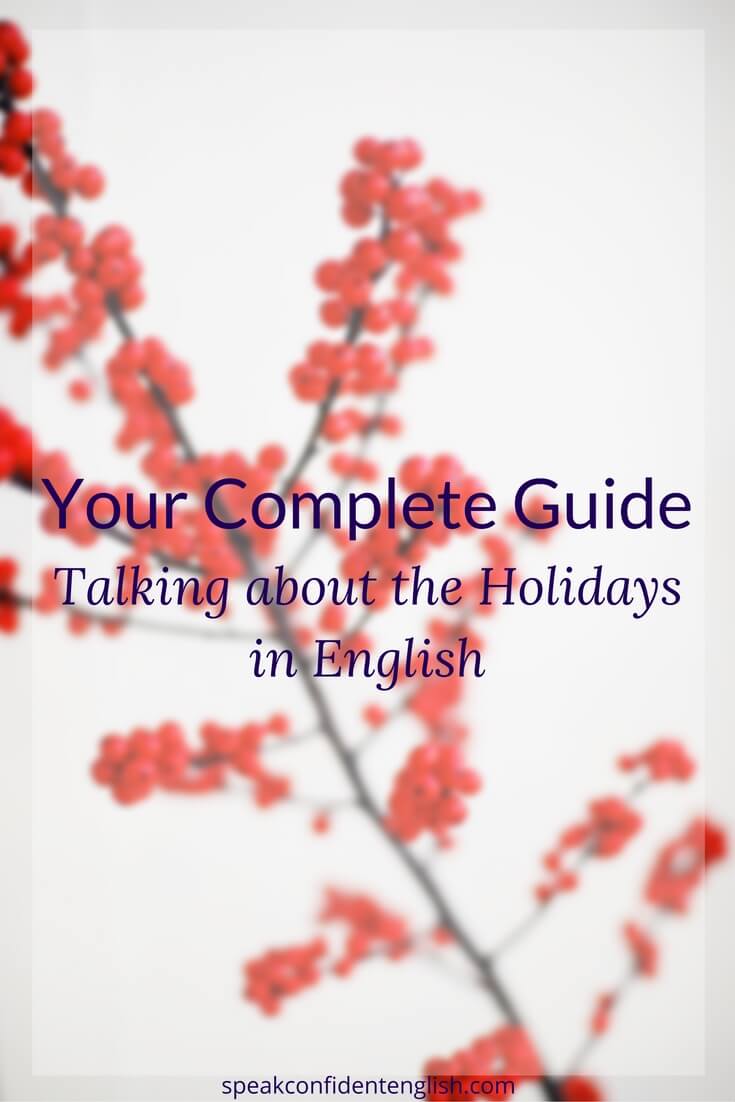 Talking about the Holidays in English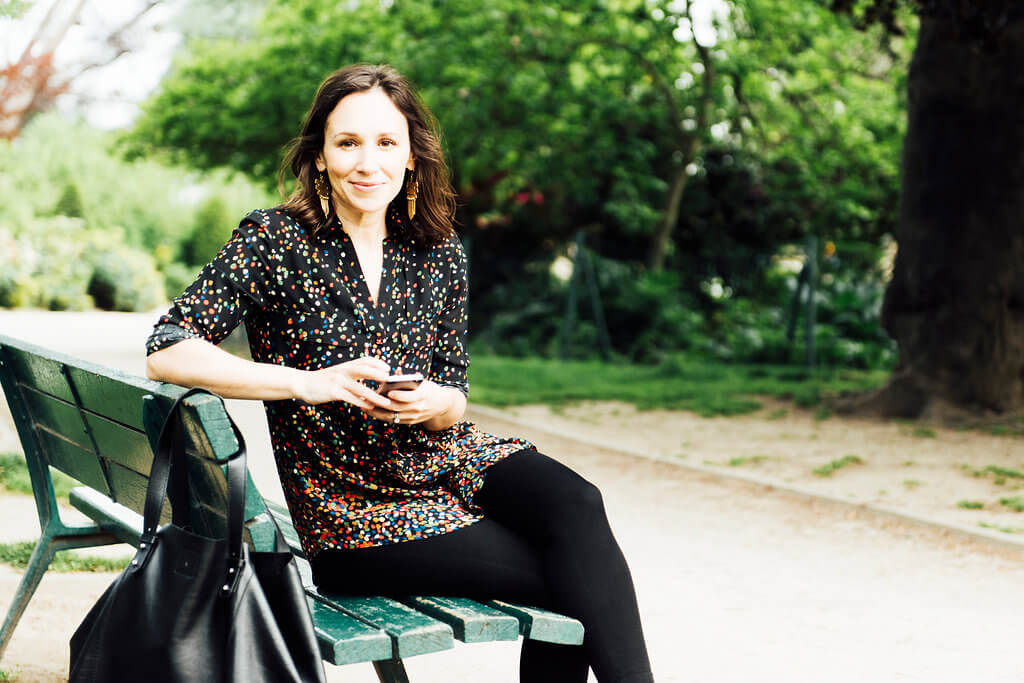 ADVANCE YOUR ENGLISH & COMMUNICATE WITH CONFIDENCE
Join over 9,000 others in the Confident English Community and get immediate access to my free Confident English Resource Library. 
December Holidays in the United States
Because the population in the United States is so diverse, there are many holidays celebrated in December.
Here are a few of the most important:
Christmas
Christmas celebrates the birthday of Jesus Christ and is celebrated by Christians on December 25. The holiday is also very cultural in the United States, celebrated by both religious and nonreligious families. The day before Christmas, December 24, is known as Christmas Eve. This is also a very special day for many families. Many religious families will go to church during the evening hours or at midnight to celebrate Christmas.
Hanukkah
Hanukkah is an 8-day Jewish festival (also known as the festival of lights) celebrated in the month of December but based on the Jewish lunar calendar, as a result the dates change from year to year.
Mawlid Un Nabi
Mawlid Un Nabi is celebrated by some countries as the birthday of the Prophet Muhammad. The date is based on the Islamic lunar calendar.
Kwanzaa
Kwanzaa is a weeklong celebration of African culture and heritage among some African-Americans. It is celebrated by a small percentage of persons in the United States and takes place from December 26 – January 1.
Winter Solstice
The Winter Solstice, on December 21 or 22, marks the shortest day of the year for the northern hemisphere (it is the longest day of the year for the southern hemisphere). Many different cultures have various celebrations or rituals for this day.
New Year
And – of course – New Year is on January 1. It is considered the first day of the year according to the Gregorian Calendar.
Note: Of all the holidays, Christmas and New Year's Day are the only federally recognized holidays in the United States. A federal holiday means government and public offices are closed and most business are closed as well.
Common Greetings for the Holidays
Not sure what to write in a card or how to wish your colleagues a happy holiday?
Use the following expressions in emails, cards or in spoken form (unless noted specifically). These are perfect to use with English-speaking friends and colleagues as you get closer to the end of the year or the holiday season at the end of the month.
General Holiday Greetings
These are great to use in any situation, no matter what holiday someone might celebrate. Generally speaking, you can use them throughout the month of December with friends, colleagues, and acquaintances. 
Happy Holidays!
This is a great expression to use in general because it isn't specific to any holiday. It can be used throughout the month of December and for everyone, no matter their religion. This can refer to Christmas, Hanukkah, the New Year, Mawlid Un Nabi, Kwanzaa, and Winter Solstice. 
Season's Greetings!
This expression is most often used in writing rather than in speaking. Like 'Happy Holidays' it is a general term and can be used throughout the month for anyone. It is often seen on business holiday cards and personal holiday cards.
Have a peaceful holiday season. 
This is often used in written form, on holiday cards or used for holiday greetings.
Happy Holidays and Happy New Year!
Have a great holiday!
Specific Holiday Greetings
Use the following well wishes or greetings for specific holidays during the month of December and for the New Year. 
Merry Christmas!
This is best used for those who celebrate the holiday. In informal writing and sometimes on Christmas cards, you may sometimes see this as Merry Xmas. 
Happy Hanukkah!
Used for those who celebrate the holiday.
Joyous Kwanzaa!
Used for those who celebrate the holiday and often seen on greeting cards.
Happy New Year!
A very common greeting used the days before and the day of (January 1) New Year's Day. 
Note: Immediately after the New Year, it is still common to say 'Happy New Year' the first time you see your colleagues or friends during the first days of January.
English Conversations about the Holidays
Common Conversation Questions Before the Holidays
Use these questions to start conversations with your English-speaking colleagues and friends about their holiday plans.
What are your holiday plans?

Are you traveling for the holidays (or are you staying home for the holidays)?

What are you up to for the holidays? (What are you up to = what are your plans)

Are you staying home or going away over the holidays?

Any New Year's plans?

How does your family celebrate [insert holiday]? 

Do you have any favorite holiday traditions?

Are there any special foods that you make at this time of year?

How are you going to

bring in the New Year

? (bring in the New Year = to stay up until midnight to celebrate the new year)
Common Conversation Questions for After the Holidays
Curious how your friends spent the holidays after everyone returns to work? Use these questions to find out.
How were your holidays?

Did you do anything special/exciting for the holidays?

Did you make any New Year's resolutions?

How did you bring in the New Year?

What did you do / where did you go for the holidays?
Useful English Vocabulary for Holiday Traditions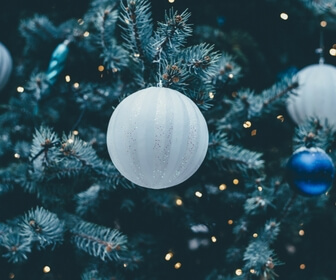 During the month of December, many families in the United States will buy a Christmas Tree to decorate with lights and ornaments. In the United States, many families buy their trees at the beginning of December. They may also decorate the outside of their home with lights.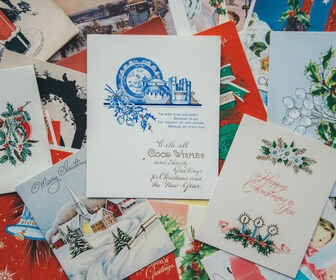 It's very common to send Christmas cards or holiday cards to friends (old and new), family, and colleagues with warm wishes and season's greetings. Families will often include photos of their children and a short letter with a family update. Many businesses may also send holiday greetings to clients.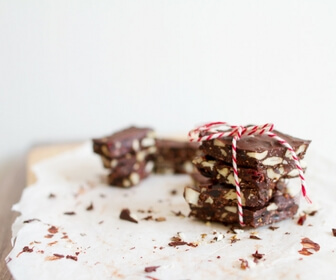 December is the month of baking and sharing holiday sweet treats such as chocolate fudge, traditional Christmas cookies, or toffee. Whether you're sharing with colleagues at work, friends, or at holiday parties, get ready for a month full of desserts! (And prepare for the gym in January.)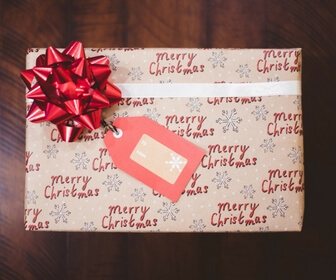 And, of course, it is a time to exchange gifts wrapped in holiday wrapping paper, bows, and ribbons. This is also a time for giving, whether it means giving to charities or volunteering your time to help others.  
It's Your Turn to Talk about the Holidays
I'd love to hear about your plans for the holidays!
Do you have any special traditions for this time of year? How do celebrate the holidays or the New Year?
Share your holiday traditions in the comments section below.
I'd also love to know if there are any common expressions that you use during this holiday time. Would you share some of the traditional expressions in the comments below? You can share in your native language or translate them into English.
Have a lovely Confident English Wednesday and enjoy talking to your friends about their holiday plans in English!
~ Annemarie
P.S. Next week I have a VERY special and different lesson to share with you during this holiday season. Be sure to watch for it. 
Get Confident English Every Week
Join me for every Wednesday for Confident English lessons and get instant access to my free resource library!